Sod Sales and Installation in Estero, FL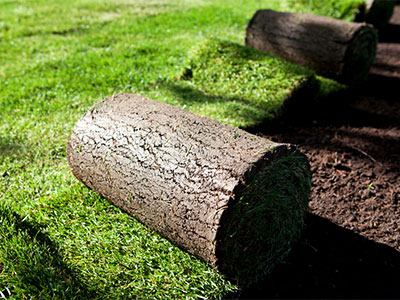 Most commercial and residential property owners like to get lawns installed in their landscape. These grassy patches add a very fresh and lively look to the outdoor areas of your property and encourage you to use these spaces more often. Well-manicured lawns add to the ambience and value of the property too.

Rooted Landscape is a full-service landscaping company with over 8 years of experience in the industry. While we are based out of Estero, we cater to customers in and around Boca Grande, Bonita Springs, Cape Coral and Captiva. We have also handled a large number of lawn installation projects for customers across Everglades City, Fort Myers, Fort Myers Beach, and Golden Gate, Immokalee, Lehigh Acres and the surrounding areas.

In most instances the sod installation is part and parcel of the landscape design and installation project. However if you want to replace an existing lawn or want a new one installed in your landscape, we can handle that job too. We are the expert sod installers that know exactly how to provide custom sod installation services to both our commercial as well as residential customers.


What Is Sod?
Sod is pre-grown grass that's available in rolls and squares and these units will be installed in the areas you require the lawn installation. We deal in sod sales and handle the installation as well.

Our experts have deep knowledge about the different types of sod grass such as St. Augustine Grass, Bahia Grass, Zoysia Turf and Bermuda grass etc. We can provide you all the information you need about the different varieties and what their pros and cons are. The recommendations we make will be based on your answers to questions such as:


How much of time do you plan to spend on lawn maintenance?
Are there any environmental or physical limitations? (soil pH level is very low or high, no irrigation system or excessive shade)
What will you be using your lawn for? (to add to the aesthetics of the landscape, for kids to play or just as a ground cover)

This detailed approach helps you make a more well-informed decision about the type of grass you want on your property.


Benefits of Sod Installations
You get an instant lawn as the grass rolls or squares only have to be set in place.
The lawn looks great and is ready for use from the day of installation.
Since the grass has already grown to a certain height, it's resilient and is able to fight weed growth better.
It is able to adapt to the new soil and climatic conditions better than grass grown from seeding.
While the upfront costs of a sod lawn are higher than seeded lawns, the maintenance costs of the former are lower and that provides you value in the long run.

When you want the best sod, Rooted Landscape is the company to call. We can provide you the type of sod you need at the most reasonable cost. Feel free to call at 239-287-9143 and discuss your project details with our experts. You can also send us queries via this online form.
We Provide Services to the Following Cities, Towns and Surrounding Regions of FL: