Landscape Design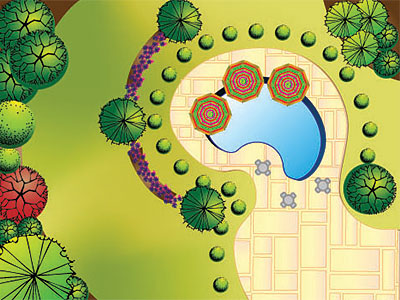 Your landscape is a very important part of your property and it's one of the first things people see when they visit your home. This is why it's important that you get these spaces designed with as much attention to detail as you do the indoor spaces of your home. Landscape design is a specialized job and companies like Rooted Landscape have perfected all aspects of it.

They cater to clients in and around Estero, Bonita Springs, Cape Coral, and Fort Myers and have handled projects for customers in Naples, Leigh Acres, and Ave Maria; they have also built a strong customer base in North Naples, Orangetree and completed projects in Olga as well. The different types of landscaping services they provide include:


Landscaping Ideas
As a homeowner you have certain ideas about what your landscaping should look like, but it takes the skill and experience of professional landscapers to give those ideas form. These professionals will have detailed discussions with you to understand what your specific requirements and ideas are; and will then provide plans that include those ideas. While they will focus on the aesthetics aspect of the project, they will also make sure that the plans are functional and feasible in the available space and that they fit into your budget.


Garden Design
The design of your garden isn't something that should be taken for granted. The plans have to add to the functionality of the space and the features should be aesthetically appealing as well. In addition, the design of your landscape should complement the appearance of your home and its architectural styling. These are the aspects that a professional landscaper will take into account while creating a design for your garden spaces.


Patio Design Landscape Designer
When you are getting your landscape planning done, and are considering getting a patio feature installed in the space you should contact a patio design expert. The landscape designer that handles the job would be able to provide you the type of patio design plans you need. This is a transitional space between the indoor and outdoor areas of your property, and needs to complement the look and styling of both these spaces. A professional will be able to plan and design this space very well.


Landscape Architect
A landscape architect is a qualified expert that can help you plan your landscape. They have the training and experience to incorporate your ideas, provide solutions of their own and design landscapes that will be a great addition to your property. They will ensure that weather-resistant materials are included in the designs as that enhances the value and increases the longevity of your property.

When you are getting any kind of landscape design, and installation done, you need to make sure that you hire an expert and experienced landscaping company like Rooted Landscape for the job. This ensures you will have outdoor spaces that are resilient, sustainable, well-planned, well-designed and which add to the value of your property.


"MORE ARTICLES"
Irrigation
Landscape Maintenance
Landscaping
Lawn Care
Tree Services

We Provide Services to the Following Cities, Towns and Surrounding Regions of FL: